A work created by Tina Ratzer, 740 citizens and Trapholt
Among the Trees is about our great and diverse love for and fascination with nature – and about the importance of biodiversity for nature's sake and for our own. The project focuses on the high level of craft and creativity that can be found throughout Denmark. When Trapholt combines an artist's visionary concept with the creativity and masterful craftsmanship of individual citizens, the result is a unique work that could only be created together as a community.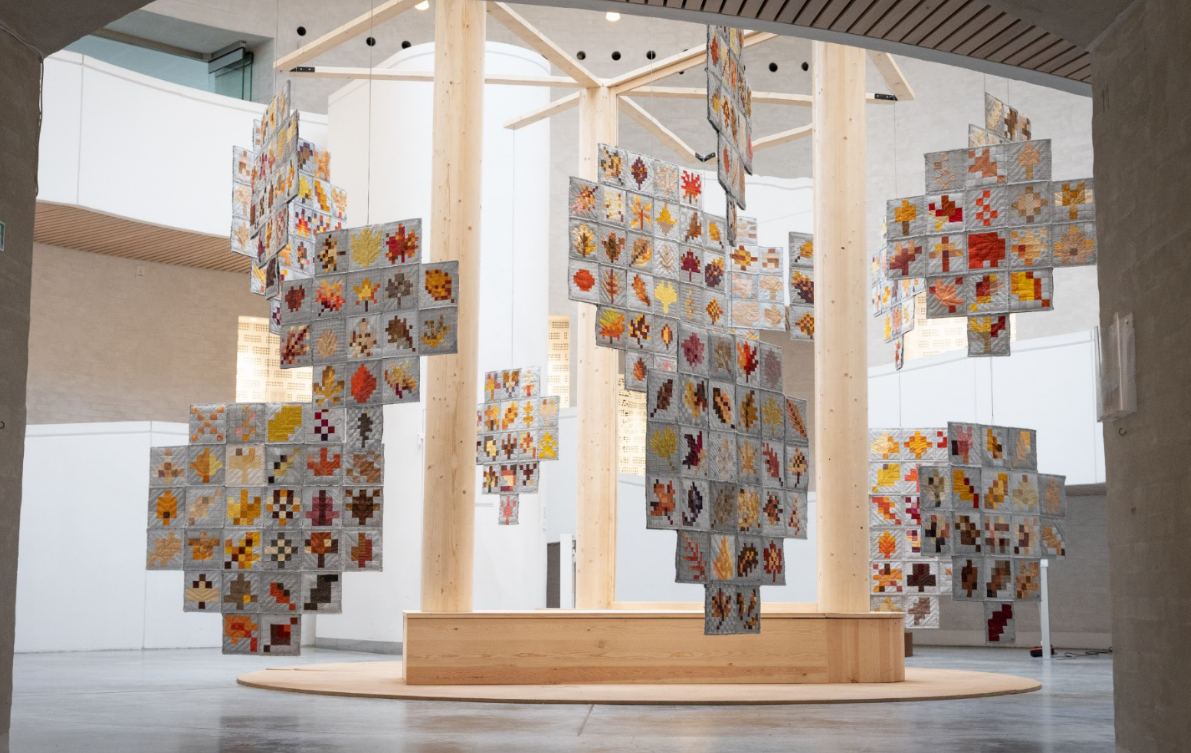 Is there a tree that means something special to you? In Among the Trees, a total of 740 children, young people and adults from all over Denmark have quilted a specially selected leaf, helping to create a kind of artificial forest. The forest consists of leaves from maple, oak, beech, chestnut, linden, birch, cherry, hazel, ash, elm, poplar, damson plum, rowan, spruce, elder, willow, hawthorn, etc. The participants' relationships with their chosen trees relates to memories of childhood, places or persons, a fascination with nature, climate issues, symbols, the cycle of life and/or craftsmanship.
Upon submission, all contributors were encouraged to register their contribution electronically with a photo and a description of their relationship with their chosen tree. All leaves and stories can be seen at www.tpt.trapholt.dk and on the screen featured in the exhibition.
Among the Trees was created during the COVID-19 shutdown in the winter of 2021 by textile artist Tina Ratzer and Trapholt in collaboration with local libraries, nature guides, craft associations and Dansk Patchwork Forening.
The project is supported by Region Syddanmarks Kulturpulje and Trekantomraadets Festuge. Fabric sponsored by Kvadrat.