Danish-egyptian furniture presentation
Trapholt presents BILINGUAL DESIGN consisting of 13 stools  designed by 21 Danish students from the Institute of Architecture and Design of the Academy and 3 young Egyptian designers.
The Egyptian designers and the Danish students were given the assignment to focus on innovative inspiration from ancient Egyptian furniture design. They were encouraged to revisit an important source of inspiration for some of the leading figures of the Scandinavian design movement who created iconic pieces such as "The Egyptian Stool" (Ole Wanscher) and "The Egyptian Chair" (Finn Juhl). By highlighting the keywords form follows function and less is more, the designers and students were encouraged to delve even more into the spirit of Scandinavian design.
The manufacturing of the 13 stools took place at Pinocchio Furniture Factory in the Mediterranean city of Damietta during a five days long workshop in November 2021.
The experience of close collaboration between the craftsmen at the factory and the design students and designers has been an important part of the process. The factory floors were turned into spaces of creativity and innovative solutions where professionalism could thrive and know-how be shared.
During their stay in Egypt, the Danish design students paid visits to the Egyptian Museum to study the ancient Egyptian furniture first hand. Their new insights into materials and production techniques are reflected in their designs which are all clearly modern but also have a distinct sense of ancient Egypt.
The present presentation of the 13 stools at Trapholt was preceded by a presentation at the National Egyptian Museum of Civilization in Cairo last December which attracted considerable interest from designers and industry professionals.
The stools are a result of a collaboration between The Royal Danish Academy, Pinocchio Furniture, Designdustry and the Danish-Egyptian Dialogue Initiative. The students and designers have been supervised by associate professor Nicolai de Gier, lecturer Andreas Lund and design manager Amr Orensa.
Opening reception
The Danish-Egyptian Dialogue Initiative invites to the opening May 5, 2022 at 2pm-5pm
14:00  Opening of presentation and registration
14:30  Welcome by Karen Grøn, Director
Word by Mr. Nicolai De-Gier, Professor, The Royal Danish Academy of Fine Arts
14:40  Word by Mr. Amr Orensa, Design and Marketing Manager, Pinnochio Furniture, Egypt
14:50  Presentations by students
15:30  Thank you by Marwa Seoudi, Project Officer, DEDI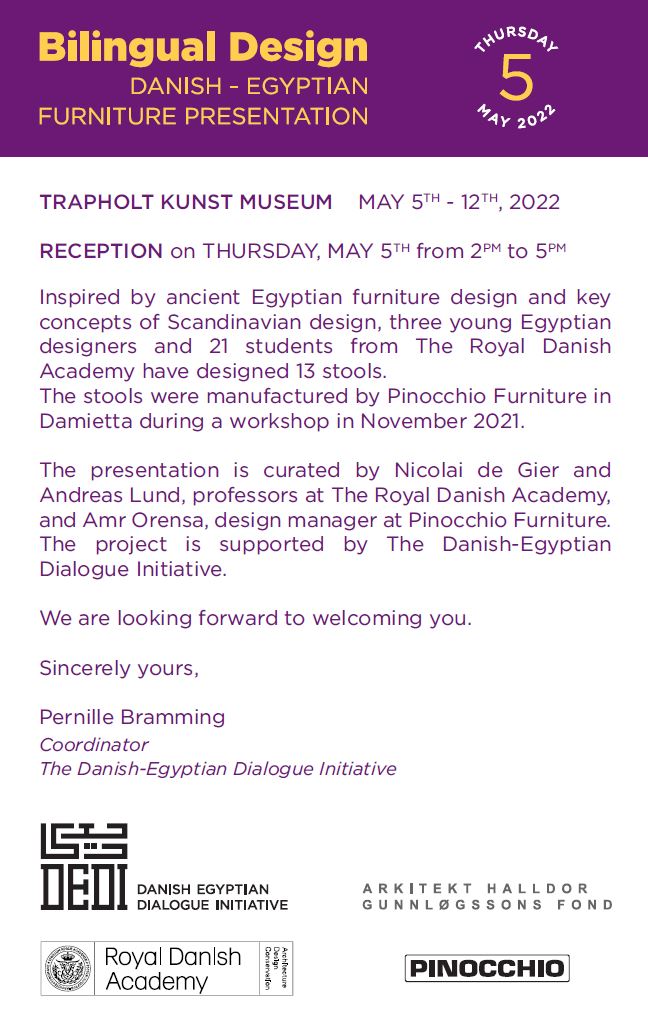 The exhibition is open 5.5 – 12.5.2022