Find out what data Google and Facebook store about you. Then turn your data trail into an embroidery and become part of a vast, communal work of art. This was the call issued in the spring of 2022 from Trapholt. A total of 630 people from all over Denmark accepted the challenge and became part of the large project, which eventually produced the six-metre-tall artwork Data Mirror.
Whenever we go online, we leave data traces everywhere. The links we click, the things we Google and what we post on social media all paint a picture of our identity online. We are aware that companies use our data in commercial contexts, but do we have any real sense of the information floating out there about us?
In the spring of 2022, Trapholt invited the Danes to delve into their personal data through the creative channels of crafts. A total of 630 individuals and 34 drop-in centres became part of the project and, with the help of an algorithm developed for the purpose, examined their personal data trail and the information they leave behind on Facebook and Google. The participants then went on to convert these tracks into personal embroideries which together form the six-metre-tall Data Mirror. Textile artist Astrid Skibsted created the overall artistic vision subsequently brought to life by the many individual contributions. The artwork has emerged out of the meeting between the unifying artistic framework and the many individual contributions.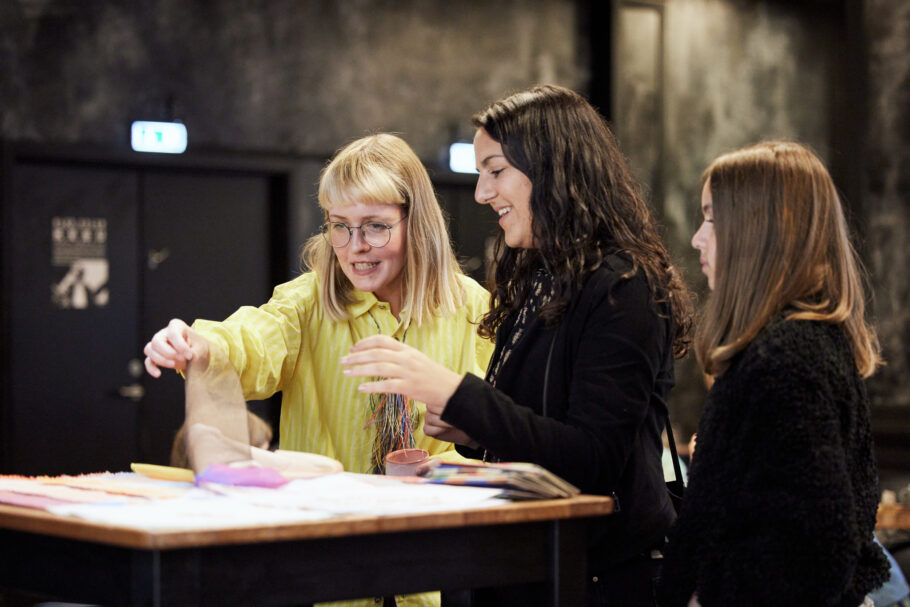 The Data Mirror embraces the many personal embroidered contributions as well as handwoven lengths of textile. The latter pieces illustrate how the entire world is woven together by criss-crossing relationships. Weavers from weaving circles throughout the country helped create the textiles used in the work.
The project was launched with a large, joint virtual workshop at the end of April, where several hundred people met up with Trapholt and Astrid Skibsted via Zoom. During the course of the project, Astrid Skibsted held virtual weekly 'tips and tricks' meetings where participants could get help, 'meet' the other participants and ask questions. At libraries and drop-in centres across the country, participants could pick up materials, receive guidance and take part in workshops and embroidery salons. Throughout the process, the participants were actively involved on the project's Facebook page – sharing their thoughts, images and ideas with each other.
The Data Mirror is part of the major research project CraftVærk carried out by Trapholt in collaboration with Aarhus University, supported by the VELUX FOUNDATION. Here, we examine what jointly created artworks can do for the participants, the museum, society and art.
Trapholt has a long tradition of craft projects and participatory community art. Data Mirror follows in the wake of numerous previous projects, the most recent being Stitches Beyond Borders (2020), LIGHTHOPE (2020) and Among the Trees (2021). Trapholt has received several accolades for its community art projects, including the Dansk Kulturliv industry award and The Artmuseum Award 2021.