LIGHTHOPE – A work created during the corona crisis
LIGHTHOPE – A work created during the corona crisis
Textile artist Hanne G and artist and furnituremaker Rasmus Bækkel Fex have brought together 987 people from all over Denmark to jointly create LIGHTHOPE, a work of art made during the COVID-19 shutdown in Denmark. The work is a monument to hope and community in difficult times.
Trapholt's idea of facilitating LIGHTHOPE arose out of a desire to make a positive contribution during the coronavirus crisis – a contribution based on what the museum stands for: creativity, the acquisition of new knowledge and a sense of community centred on art and design. Trapholt has a long-standing tradition of bringing together professional artists and ordinary people with a passion for crafts. Reflecting this, we contacted Rasmus Bækkel Fex and Hanne G with a view to creating a work during the coronavirus pandemic.
From the launch of the project on 1 April to Trapholt's reopening in May, people from all over the country have handed in 1,629 crocheted bulbs, partly at Trapholt and partly at twenty-seven appointed locations across Denmark. On the project's Facebook page, several thousand members have shared pictures, thoughts and ideas. Over the course of the project period, participants could monitor the installation of the work and take part in virtual events and crocheting clubs where they could meet each other and the artists.
When the work was finished, Trapholt invited everyone to a virtual vernissage where museum director Karen Grøn guided the guests along the 50-metre art installation, conducted artist talks with textile artist Hanne G and designer Rasmus Bækkel Fex, and introduced the work and the participants behind it. The vernissage was rounded off by a musical performance set inside the work itself.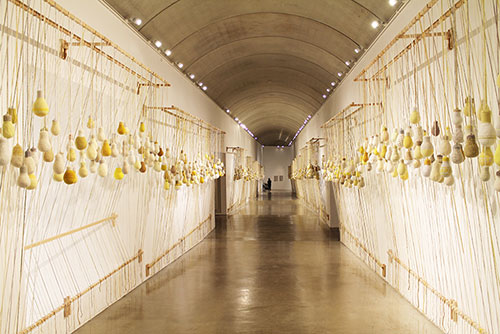 About the artists
Rasmus Bækkel Fex built a tunnel/pergola extending all the way through Trapholt's 50-metre main axis. It symbolises that what we are currently going through is just a phase and that there is light at the end of the tunnel. A work consisting of threads has been mounted on the wooden structure. The threads may conjure up associations to Norse mythology, where the three Norns spin out the threads of human lives by the world-tree Yggdrasil, or to Greek mythology where Penelope weaves while waiting for Odysseus.
Hanne G developed the textile-related aspects of the installation. The format specified crocheted lightbulbs in shades of white, beige and yellow. The base of each bulb is built around a toilet roll, and participants were encouraged to use leftover yarn they had lying around. The bulbs are a symbol of how bright moments can still be found in dark times. Reminiscent of pears, the bulbs are also a metaphor of fruit growing and ripening. The project made patterns available, enabling even beginners to contribute, while more experienced crocheters were allowed to explore how far they could take their craftsmanship within the parameters of the overall artistic framework.
LIGHTHOPE is supported by the Augustinus Foundation