Arne Jacobsen's summerhouse
A major attraction for all those who are interested in design and architecture.
Many are familiar with Arne Jacobsen's world-famous chair designs: the 7 chair, the Ant, the Swan and the Egg. But only few know that the Danish architect and designer also created a modular summerhouse. Known as Kubeflex, the design revolves around cube-shaped modules that can be combined to suit individual needs, enabling the house to change its layout and size as required.
Arne Jacobsen designed Kubeflex in 1969–70, just one year before his death in 1971, but it never entered production. Until 2002, the Jacobsen family used the house as a summerhouse. It arrived at Trapholt in 2005. The only one of its kind, the house is decorated with Arne Jacobsen designs inside.
A summerhouse for the Jacobsen family
For many years, the modular house was located on a south Zealand beach, serving as a summerhouse for the Jacobsen family. Only the most enthusiastic architects knew of its existence, but nevertheless many professionals contacted the family in the hope of being allowed to view this radical take on modern living.
Now, it gives Trapholt and Arne Jacobsen's family great pleasure to see the house made accessible to the general public, placed in the museum grounds and commanding splendid views of Kolding Fjord.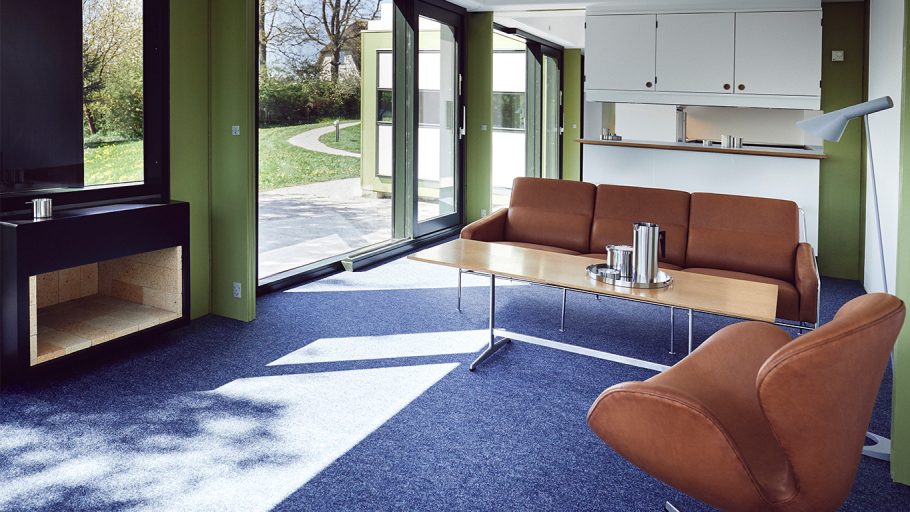 An immersive experience
The Kubeflex house gives Trapholt a unique opportunity to show Arne Jacobsen's designs in a house designed by the master himself. Visitors will find interiors set out as dining and living rooms, incorporating examples of Arne Jacobsen's other designs, such as the Vola line of faucets and the Cylinda-line series. Audiences are treated to an immersive experience of the internationally renowned architect's designs, which beautifully complements the museum's large collection of furniture by Danish architects and designers.
Kubeflex was a pioneering contribution to the flexible architecture created back in the late 1960s. Preserved at Trapholt, Kubeflex will continue to inspire, amaze and delight guests from around the world for many years to come. Trapholt organises daily guided tours of the Kubeflex house; these tours are free for all museum visitors with a valid ticket.
Guided tours
Weekdays at 13.00 & 15.00
Weekends and holidays at 11.00, 13.00 & 15.00
Arne Jacobsen's Kubeflex is sponsored by:
Trapholt-Fonden
Lisbeth Petersens Fond
Augustinus Fonden
Carl F. og Anna Elisabeth Fond
Republic of Fritz Hansen
VOLA A/S
Louis Poulsen A/S
Stelton A/S
Royal Copenhagen
Kvadrat
Rosendahl Design Group
Georg Jensen
Georg Jensen Damask