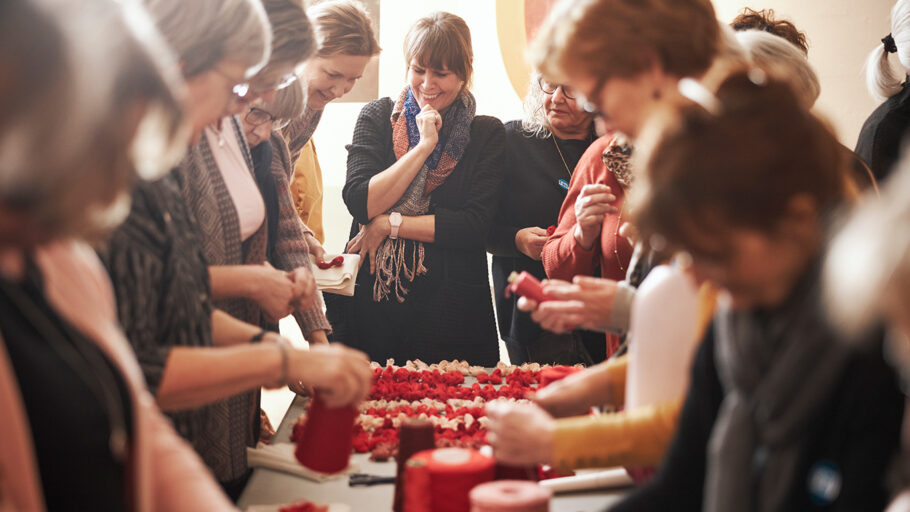 CraftWorks – two Craft Projects and Research about Collaborative Art as Change Maker
Trapholt Museum of Modern Art, Craft and Design has a strong practice of making collaborative artistic projects with up to 1000 participants, which end up as prizewinning art pieces. The research project CraftWorks (2021-24) is a collaborative research and action project by Trapholt and Aarhus University, which wants to take this type of projects. The aim is to develop new methodologies for art museums as democratic, polyphonic and relational spaces of people and art. Based on earlier collaborative projects, Craftworks initiates two large scale collaborative and artistically ambitious craft projects at Trapholt. We research what these projects do as respectively processes and unique art works, and how the projects challenges and affects participants, art museum, society as well as our understanding of art. How can we create inclusive exchanges between heterogeneous voices and personal experiences and at the same time extend the artistic field with new art works? The two collaborative craft-projects will be qualified through action research, which involves artists, project managers and researchers in exchange with leading international museums and theorists in the field. Through this, we will develop new methods for Trapholt and other art museums, which combine a relational and an objects focused praxis.
LightHope (2020) and Among the Trees (2021)
Instead of closing down during lockdown in spring 2020, Trapholt opened new doors and created the collaborative artwork LIGHTHOPE with 1000 participants from all over Denmark. May 2020 when Trapholt reopened, the 70 meters installation was ready in the centre gallery https://stitchingtogether.net/2021/06/14/case-study-karen-gron-trapholt-museum-denmark-lighthope-crocheting-hope-during-lockdown-spring-2020/. During the second lockdown, winter 2021, 650 citizens quilted an artificial forest in the project AMONG THE TREES. The participants participated because of an interest in craft, but through the project, 47% gained new insights about nature; 67 % felt empowered in conversations with others about craft and nature; 85% felt they were part of a community, and 67% tell it had a positive impact on their wellbeing during lockdown.
Karen Grøn is museum director of Trapholt Museum of Modern Art, Craft and Design since 2010. Before she was curator of interpretation and visitor development at Trapholt and curator of Art at the Women's Museum in Denmark. Participation, engagement and generosity is the DNA of the work of Karen Grøn aiming at creating a relevant art museum for visitors, society and users through radical change both in programs, collections and organization simultaneously. Karen Grøn was Research Associate at Museums and Galleries in Education, Institute of Education, University College London 2006-07 and visiting researcher at Tate, London 2018-19
Birgit Eriksson is a professor of cultural theory and analysis at the School of Communication and Culture, University of Aarhus, Denmark. Her research interests include collaborative arts and culture; cultural taste and communities; the uses of the arts; aesthetics, citizenship and politics. She is the director of Take Part – Research Network on Cultural Participation and co-director of a research program in Cultural Transformations. Currently she is the lead of three research projects on art in deprived social housing areas, on citizen participation in cultural centres, and on collaborative projects in museums. Recent publications include Cultures of Participation: Arts, Digital Media and Cultural institutions (Routledge 2020). More info and all projects and publications at http://au.dk/aekbe@hum
Keywords: Collaborative art; empowerment; democratization; community; organizational change